Safetytubs
When it comes to the safety of your loved ones, nothing is more important than ensuring that they have access to the right products. Safetytubs offer an array of ADA accessible tubs and showers that are designed to ensure the safety of the elderly and those with limited mobility. In this blog post, we will discuss what safety tubs are, the benefits of ADA accessible tubs and showers, and how to choose the right safe tub for the elderly. With the help of Safetytubs, you can enjoy peace of mind knowing that your loved ones are safe and secure.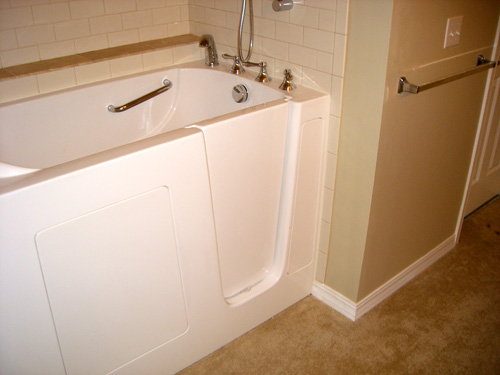 What Are Safety Tubs?
Safety Tubs are designed specifically to provide elderly and disabled individuals with safer bathing experiences. With features such as an extra-wide door frame, grab bars, adjustable bench height, and temperature controls, users can easily access and exit the tub while enjoying personalized comfort. Select models also come with therapeutic air bubbles and massaging water jets to provide relaxation and relief.
Beyond comfort, Safety Tubs offer peace of mind by reducing the risk of slips and falls, providing waterproofing, and installation that can be completed within just two days. The incorporation of safety features like handrails, seats, and non-slip surfaces is also supported by bonded and insured installation standards.
Customizable to fit décor needs and with a range of sizes and colors available, Safety Tubs make it easy for individuals to enjoy bathing without the need for remodeling their bathroom space. Experience a spa-like experience, warmth retention, and added safety with Safety Tubs.
How Safety Tubs Offer Comfort And Convenience For Bathing
Safety tubs provide comfort and convenience for bathing, with easy installation and replacement of traditional bathtubs. Available in a variety of designs, there is sure to be one that fits your needs.
These tubs are designed to provide safety and comfort, with features such as ADA accessibility for those who need extra support, slip-resistant surfaces to prevent falls, and therapeutic options for relaxation. They are also low maintenance and easy to clean.
For seniors or elderly individuals, Conta walk-in tubs offer a sleek design for easy access, chromatherapy options for a spa-like experience, built-in seats, and grab bars for added safety.
Advanced safety features such as no-slip floors and grab bars ensure that everyone is protected while bathing, providing peace of mind. With all these benefits, it's no wonder that safety tubs are becoming the preferred choice for bathing solutions.
Benefits Of ADA Accessible Tubs & Showers
When it comes to safety tubs and showers, ADA compliant options provide the best accessibility and mobility for people with limited function. Safetytubs are perfect for seniors, families, and those with physical disabilities who want to age in place safely. With multiple seat heights and barrier-free access to ensure maximum comfort, Safetytubs also offer features like grab bars, therapeutic jets, and slip-resistant surfaces for additional safety and stability.
Not only do ADA compliant products make bathing safer and easier for those with limited mobility or physical disabilities, but they can also save you money on energy costs from efficient hot water systems and plumbing fixtures. As an added bonus, these products reduce the risk of painful falls or other injuries due to slippery surfaces.
ADA showers have strict requirements for size, placement, and design that guarantee maximum accessibility, making them safe as well as convenient ways to use the restroom without assistance. Grab bars and handholds provide extra security while slip-resistant flooring makes getting in or out of a shower much easier than traditional options. Shower seats are also available, which further increase both safety and ease of bathroom use – especially beneficial for those with physical limitations who may require assistance.
Textured anti-slip floors combined with built-in grab bars offer extra assurance of stability while using ADA compliant Safetytubs & Showers products – all designed to make bathing more comfortable! At SafetyTubs, we guarantee clear communication with our customers throughout the process to ensure that you get exactly what you need quickly and easily! We offer a wide selection of ADA compliant tubs & showers throughout the San Francisco Bay area; contact us today with any questions about our services.
Installing An ADA Compliant Tub-What You Need To Know
Installing an ADA compliant tub is an important step in making your home safer and more accessible for those with physical disabilities or mobility issues. Safetytubs makes it easy to install a safety tub that meets all the necessary requirements for ADA compliance. In this article, we will discuss the benefits of installing an ADA compliant tub, the factors to consider for installation and design, common obstacles to watch out for when installing a safety tub, and cost benefits associated with such a project.
The first benefit of installing an ADA compliant bathtub is that it provides a safe and secure way of bathing for individuals with physical disabilities or mobility issues. Safetytubs offer a variety of options such as size and shower combo so you can customize your bathtub experience. All products meet the accessibility requirements set by the Americans With Disabilities Act (ADA) so everyone can use them without difficulty.
When considering installation, there are certain factors to keep in mind, such as space availability in your bathroom area, budget constraints, plumbing needs, and other accessories like bathtub safety rails which offer additional support and stability when getting in and out of the tub. It's also important to make sure off-site preparations are taken care of prior to installation; this includes obtaining permits from local authorities if necessary as well as making sure utility lines are properly marked beforehand. Working with a professional contractor experienced in safety bathrooms is advised since they will be able to provide proper guidance on how best to install your new ADA-compliant bathroom setup safely and correctly according to all applicable standards.
Overall, installing an ADA compliant bathtub has many cost benefits associated with it. Not only does it make your home safer, but it also adds value by increasing its appeal should you decide one day down the road that you want to sell or rent out your property. Safetytubs makes finding these solutions easy – contact us today if you're looking for custom solutions tailored towards creating safe environments around bathrooms!
How To Choose The Right Safe Tub For The Elderly
Choosing the right safe tub for the elderly can be a challenging task with so many options available. To ensure the safety needs of elderly users, researching different types of bathtubs is crucial. When considering a safety tub, key features such as walk-in tubs, grab bars, and no-slip bottoms should be taken into account. Defining a budget for a safety tub and getting specialized recommendations from professional installers is also important to guarantee that the tub meets building codes and regulations.
Walk-in tubs offer a safe, low-entry step threshold, making entering and exiting much easier for those with mobility issues or those at risk of falling. Depending on the manufacturer, walk-in tubs can include adjustable hydrotherapy jets, slip-resistant surfaces and/or heated air blowers/seating, all of which help create an enjoyable bathing experience for users with limited mobility or balance problems.
Conta Walk in Tubs provides an array of accessible solutions, including their Walk-in Tubs, designed specifically for senior's needs, and their Clamp On Adjustable Tub Rail, popularly used by elderly users due to its user-friendly design, including comfort grip handles, making it easier to transfer from a seated position into the bathtub safely. Conta Walk in Tubs professionals can recommend the best walk-in shower or bathtub suitable for your bathroom configuration after inspection, but please note that the existing shower or bathtub will need to be removed before installation of Conta Walk in Tubs product can begin, typically within two days depending on the complexity level needed during the installation process.
Benefits Of A Safe Tub For Elderly And Disabled Individuals
For elderly and disabled individuals, bathing can be difficult due to physical limitations or balance issues. Safetytubs' safe tubs provide extra safety and comfort for those with limited mobility. These tubs are ADA compliant and offer several benefits for the elderly and disabled.
Safetytubs' tubs feature durable and non-slip surfaces that provide extra protection against slips and falls. They also come with easy accessibility features, such as low threshold entry, which makes it easier to enter the bathtub even when using a wheelchair or walker. The higher walls of the tub also offer increased safety while bathing.
Another great benefit of Safetytubs' safe tubs is that they increase independence and privacy for seniors or those with physical limitations while showering or bathing. With a walk in bathtub, individuals can bathe on their own without having to rely on someone else's help every time. Additionally, walk-in baths are designed to reduce the risk of falls by providing additional support from grab bars, non-slip surfaces, rails, benches, etc. – all designed specifically for elderly users' needs.
Finally, Safetytubs offers a variety of sizes and designs, each with its own unique features, so you can find one that fits your individual needs perfectly. Whether you need adaptive equipment such as transfer chairs, grab bars, hand rails, etc., Safetytubs has got you covered! With their safe baths, seniors and those with limited mobility now have an easier way to bathe independently, providing greater freedom in their daily lives.
To Conclude
Safety Tubs provide a safe, convenient, and ADA-compliant solution for bathing needs. They are designed to offer comfort and convenience with features such as extra-wide door frames, adjustable bench height, therapeutic air bubbles, and massaging water jets. Additionally, they provide peace of mind by reducing the risk of slips and falls while providing waterproof installation that can be completed within two days. With advanced safety features like handrails, seats, and non-slip surfaces supported by bonded and insured installation standards, Safety Tubs make it easy for individuals to enjoy bathing without the need to remodel their bathroom space.