Tub To Walk In Shower Conversion
Fill out the form below and a Conta Walk In Tub team member will get back with you as soon as possible.
WALK-IN TUBS, SHOWER CONVERSIONS, BATHROOM REMODELING & MORE!
Are you looking to transform your bathroom with a tub-to-walk in shower conversion? With the right walk in shower remodeler, it can be easier than you think! At Conta Bathroom Remodeling Services, we specialize in making this type of transformation as simple and stress free as possible. Whether you're starting from scratch or working with an existing space, our team will help bring your vision to life. Here's why a tub-to-walk in shower conversion is such an excellent investment for any home.
A tub-to-walk in shower conversion offers more than just aesthetic appeal – it also adds convenience and ease of mobility. By replacing your traditional bathtub with a spacious walk in shower, you'll gain extra room to move around without having to worry about stepping over high ledges or slipping on wet porcelain surfaces. This makes entering and exiting the shower much safer and simpler, especially if someone has limited mobility due to age or injury. Plus, any family member will appreciate how easy it is to keep clean!
And that's not all! A professional walk in bathroom remodeler like ours at Conta Bathroom Remodeling Services ensures that the job gets done right the first time round. We use only top quality materials so you know that your new walk in shower will last for years – no need for costly repairs down the line! Finally, we provide personalized service every step of the way; from design ideas to installation advice, our experts are here to make sure everything goes smoothly. Ready to take the plunge? Contact us today for more information about tub-to-walk in shower conversions.
Benefits Of A Tub To Walk-In Shower Conversion
Who knew that something as simple as a tub to walk-in shower conversion could bring so much joy? It may sound like a cliché, but it's true. After all, who doesn't want the luxurious experience of stepping into a spacious and cozy walk in shower? A tub to shower conversion is one of the simplest and most cost effective ways for homeowners to make their bathrooms feel more modern and inviting.
At first glance, you might expect the process of converting your bathtub into a walk-in shower to be complicated. But with prefabricated shower stall kits readily available on the market these days, it's actually quite easy! With minimal time and effort, you can transform an average sized bathroom into something completely different – allowing you to reap all the benefits of having a larger shower size without having to sacrifice any existing space or functionality. Plus, by investing in such a project now, you can enjoy long lasting returns on your investment – making it well worth considering if you're looking for an affordable way to upgrade your home's bathrooms.
When converting a tub to a walk-in shower, it's important to include ADA approved grab bars for safety and accessibility purposes. These grab bars should be installed on each wall in the shower stall, near the entrance of the enclosure. They must have enough clearance between them and any other fixtures like the shower head or shower curtain rod. Installing these bars is part of an overall bathroom remodel that adds accessible features for people with mobility issues.
These grab bars are made from stainless steel or aluminum and come in various sizes and shapes depending on your needs. When installing these bars, it's crucial to make sure they are securely fastened into studs behind the walls so they can provide adequate support when needed. Once all the required hardware has been purchased and installed according to manufacturer instructions, you'll be able to enjoy your new walk-in shower safely and confidently.
With proper installation, grab bars will enhance both the design of your bathroom as well as its functionality — providing much needed safety without sacrificing style or beauty!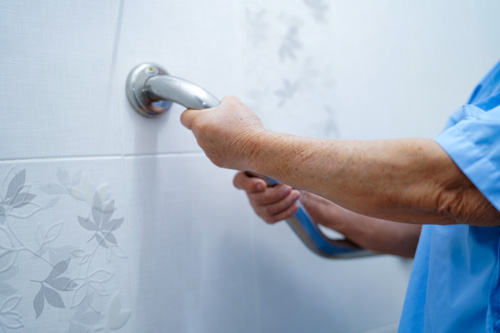 Low Thresholds And Leak-Free Doors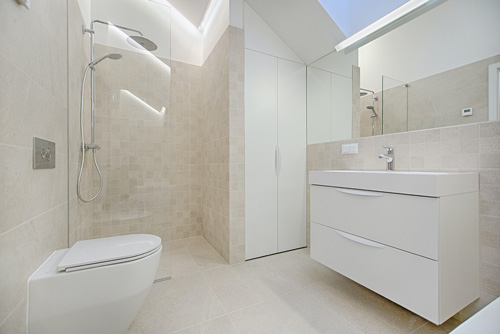 A successful walk in shower conversion often relies on the installation of low thresholds and leak-free doors. Like a jigsaw puzzle, these components must fit together seamlessly for an aesthetically pleasing result. As with all projects, preparation is key to creating a safe and beautiful bathroom transformation.
First, installing the drain before setting the new shower base is essential. The right selection will prevent potential water damage that could occur if not installed correctly. Shower stall kits come in various shapes and sizes to accommodate any size space or layout you have envisioned for your remodel. To further customize your design, consider adding tempered glass doors or a curbless shower entrance without a door at all. Glass doors provide an open feel while providing privacy when needed; they can also be used to tie in other elements such as tile or countertops throughout the restorative process.
With proper planning and quality materials, you can achieve a tub-to-walkin-shower conversion that leaves your bathroom looking more modern and spacious than ever before! A thorough inspection of every element involved will help ensure no last minute surprises arise during the renovation process so you can enjoy your updated space sooner rather than later.
When it comes to bathroom renovations, converting a bathtub into a walk-in shower is becoming increasingly popular. To complete this project successfully, you need easy access to the controls for your new shower. Here's what you should consider:
Ceramic tiles – Most homeowners choose ceramic tile for their walls and flooring in order to create a stylish look that's also durable and water resistant. Make sure your tile selection allows enough room for easy access to the shower valve and faucet valve.

Plumbing skills – You may be able to handle simple plumbing tasks yourself, but if not, hire an experienced contractor or plumber who has experience with remodeling projects like yours. This will ensure the valves are installed correctly and easily accessible when using your shower.

Shower kits – There are many types of pre-made shower kits available on the market today that make installation much easier than starting from scratch. These kits usually include all of the necessary components such as the wall panels, drain assembly, and hardware needed for a successful conversion.

Shower faucet valve– The placement of your shower faucet valve can have a big impact on how easy it is to reach while taking a shower. Be sure to measure carefully before purchasing so you can get just the right height for ease of use during showers.
By investing time upfront in selecting quality materials and planning out where everything goes, you'll end up with a brand new walk-in shower that looks great and offers maximum convenience down the road!
Comfortable Built-In Seating
When transitioning from a tub to a walk-in shower, adding comfortable built-in seating is essential. There are many options available for this purpose – wall mounted seats, corner seats, and transfer benches can all provide the perfect solution for achieving maximum comfort and convenience in your new shower area. If space allows, you may want to consider installing a full-sized shower seat that can be used as an extra spot for relaxing or bathing.
Shower niches also make great additions to any walk-in shower conversion project. This type of feature provides an easy way to store small items such as shampoo bottles, razors, sponges, and other personal hygiene products while keeping them within reach during showers. Many different sizes and styles of niches are available on the market today so you should have no trouble finding the perfect one for your needs.
If you're looking for something more comprehensive, there are plenty of complete kits that include everything needed to transform your existing tub into a spacious and functional walk-in shower stall. A neo angle shower stall kit typically includes a wide variety of components such as base walls, side walls, door panels, drain assemblies and accessories like soap dishes and towel bars. With these kits it's possible to create a truly custom look with just about any type of material or finish imaginable!
Customizable Style Options
At the start of any bathroom remodel, it's important to consider the shower style you'd like for your walk in conversion. Do you prefer a custom tiled shower with glass shower doors, or would you rather go for an easier route such as a prefabricated unit? The possibilities are endless!
Tile showers offer a luxurious feel and have unlimited design options. You can choose from over 100 different color and sizes of tiles, which makes customizing the perfect look easy. If you're looking to make an impactful statement in your bathroom, tile is definitely worth considering. Having a level surface is much safer than having one that slopes down – so be sure to talk to your contractor about this detail if needed. Inch showers are also popular these days due to their sleek minimalist design and ability to fit into smaller spaces. Plus, they still provide plenty of space for activities such as shaving and washing.
No matter what kind of shower style you decide on, there are dozens of ways to make it unique and truly yours. From simple fixtures such as knobs and handles, all the way up to fully customizable features like rain bars- each aspect can be tailored perfectly according to your needs and desired outcome. When planning out your walk in conversion project, remember that there's no wrong choice – just whatever works best for you and gives off the desired aesthetic vibe that fits with the rest of your home décor!
Soothing Hydrotherapy Jets
Now that you've seen the customizable style options for your walk-in shower conversion, let's take a look at some of the features available to give you the ultimate relaxation experience. With soothing hydrotherapy jets and adjustable water supplies, you can achieve maximum comfort during your showers with minimum labor costs.
For an easy installation process, consider investing in a prefabricated shower kit. This includes all the necessary components such as shower fixtures, plumbing parts, glass panes and panels, doors, trims and thresholds. You will also need accessories like utility knives or other cutting tools if you plan on customizing any part of it yourself. Once everything is complete, turn on your hydrotherapy jets and enjoy a spa-like atmosphere right in your own home!
Easy Clean Acrylic Surfaces
When it comes to bathroom remodeling, the shower is one of the most important elements. When converting a tub to a walk in shower, you will want to consider easy clean acrylic surfaces for your new shower installation. Acrylic showers come in units that are typically more affordable than tile options and they can be professionally installed with minimal disruption.
When selecting an acrylic shower unit, make sure you choose one that offers superior durability as well as ease of maintenance. You'll also need to factor in eye protection during installation, since many acrylic showers have sharp edges which may require additional safety precautions. Fortunately, working with a professional installer can help ensure all safety measures are taken while providing money saving tips throughout the process.
Acrylic showers offer excellent value when compared to other materials and they're highly resistant to stains and scratches, making them perfect choice for busy bathrooms. With proper care and regular cleaning, these products will last for years without needing repairs or replacement parts – so don't hesitate any longer if you're ready for a bathtub removal project!
Limited Lifetime Warranty Coverage
Making the switch from a traditional bathtub to a walk in shower can feel like crossing an ocean, but with the right knowledge and quality materials it can be as smooth as sailing. At ABC Bathroom Remodelers, we specialize in making this transition for our customers easy and efficient by providing top-notch installation services and shower conversion kits.
When taking on a shower conversion project, plumbing modifications must be done to ensure that all components are up to code while still meeting your needs. We offer quality shower kits with multiple options such as frameless glass walls or tile options, so you can customize your bathroom just the way you want it. Additionally, depending on what type of kit you choose and how much labor is required, the cost ranges anywhere between $2,000-$10,000.
No matter which option you choose for your bathroom remodel project, we guarantee superior service at every level. Our team of professionals will provide detailed instructions for installation methods based on the unique features of each client's home. Furthermore, all installations come with a limited lifetime warranty coverage ensuring peace of mind now and long into the future.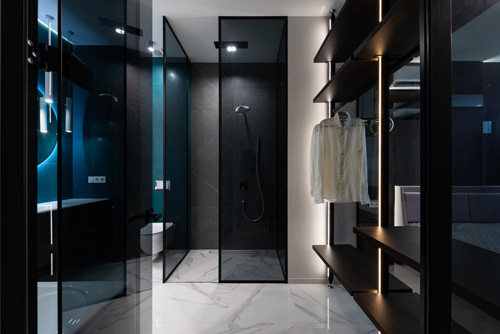 High Value Benefits With A New Walk-In Bathtub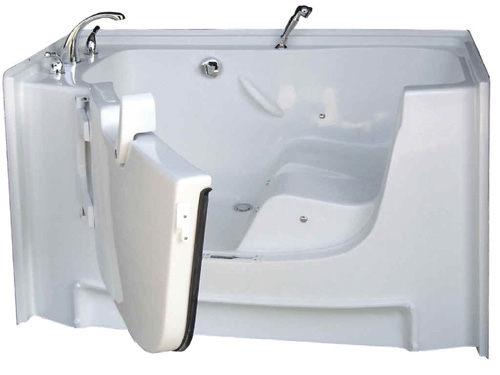 Walk-in tubs are a great way to add value to your bathroom and make it more comfortable. Not only do they look luxurious and sleek, but they also provide a number of practical benefits, including improved safety, comfort and convenience. One of the most significant advantages is that walk-in showers offer superior accessibility compared to traditional bathtubs. With their low shower floor threshold and wide range of available tiled shower sizes, you can customize the size, shape and materials for your new walk-in shower.
When it comes to bathroom remodeling projects, converting an old tub into a modernized walk-in shower is one of the best investments you can make. The cost savings from tearing out the existing tub can be used towards upgrading other aspects of your bathroom or investing in additional features like a bench seat or grab bars. Furthermore, because there's no need for extensive plumbing work when completing this type of conversion project, it's often significantly less expensive than many other types of bathroom remodel projects.
A properly installed walk-in tub provides reliable performance with fewer maintenance requirements over time as well as energy efficiency due its thick insulation layer which keeps hot water warm longer while saving money on utility bills. So if you're looking for an attractive amenity that will not only improve your home's aesthetic appeal but increase its market value too, consider investing in a new walk-in bathtub today!
Free Design Consultations And Estimates
If you're looking to take your bathroom renovation project to the next level, a tub-to-shower conversion might be just what you need. Converting an existing bathtub into a 'wide walk in shower' is more than just replacing fixtures – it requires careful planning and knowledge of how the new design will affect other features of your dream bathroom.
Our team at [company name] can help with this important step, offering free design consultations and estimates for:
Removing old fixtures without water damage

Selecting the best type of shower for your needs

Ensuring proper waterproofing of all surfaces

Finishing touches that make your bathroom stand out from the rest
We'll work closely with you throughout every step of the process and guarantee that our experienced contractors will produce amazing results when completing any tub-to-shower conversion project. From selecting materials to designing layouts, no detail is too small or insignificant when making sure we meet and exceed your expectations. Get started today on creating the perfect bathroom!
Frequently Asked Questions
A tub to walk-in shower conversion is the perfect way to upgrade your bathroom and make it more accessible for everyone. By making this simple change, you can give yourself and your family a safer, easier bathing experience. The cost of installation may vary depending on the type of materials used, but typically falls within an affordable range. The timeline from start to finish usually takes around two weeks, so you won't have to wait too long before enjoying all the benefits of your new shower system.
As far as age restrictions go, there are none; anyone at any age can enjoy using a walk-in shower! Some companies will even offer discounts on their services if you purchase certain products or packages with them. And don't forget about additional services that come after installation – many times these include warranties or maintenance plans in case anything goes wrong down the line.
At the end of the day, investing in a tub to walk-in shower conversion is one of the best decisions you'll ever make when it comes to remodeling your bathroom. You get a beautiful aesthetic result plus improved safety features that benefit everyone who uses it! So why not take advantage of our top-notch services today? We guarantee satisfaction every step of the way – contact us now for all your walk in bathroom remodeler needs!